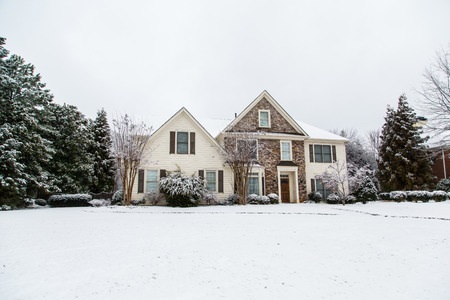 Winter is coming' they say, not just in Game of Thrones, but also in Calgary, and this year it seems it is coming a little early. It is important that homeowners take steps to add comfort and prevent or minimize damage to your home during winter.
Below are several steps that you should take to winterize your home in preparation for the season.
Eliminate Debris
You should ensure all roof drains, pipes, and gutters are free of debris and check for proper water drainage. If debris is left in gutters, it can get wet and freeze, permitting the formation of ice dams that prevent water from draining; this added weight has the potential to cause damage to gutters. If water can flow freely through your gutters, it will help to prevent the formation of icicles and ice dams. Trapped gutter water can enter the house and lead to the growth of mold.
Leaves, pine needles, and all other loose debris must be cleared from gutters which can be removed by hand or using a hose. You should also inspect the roof for obvious structural issues or maintenance, including damaged shingles.
Remove Hazardous Snow Piles
Be prepared to remove the snow surrounding your doorway, driveway, gates, outdoor valves, fire hydrant, air intakes, etc. Hire a reputable snow removal service if needed.
Make the Home Weather Tight
Inspect your windows and doors for cracks, leaks, gaps, and drafts. You can ensure that the house is "weather tight" by closing all the windows, doors, vents, etc. Be sure to seal any openings in exterior walls, ceilings, roofs, etc. Make sure the caulking and weather stripping around the windows and doors are in good condition.
Review Pipes and Plumbing
Inspect all lines subject to freezing for proper insulation (such as water, fuel, steam, tanks, etc.). You should insulate water pipes, especially in areas where the basement is not heated. Check the said systems for cracking, warping, leakage, and ensure that all plumbing fixtures are still working.
You should also shut off and drain out any outdoor plumbing by turning off the inside control valve and disconnect anything attached to the faucet before draining it.
Inspecting All Heating Systems
You should inspect all heating systems to ensure they are working properly. Installing a programmable thermostat will increases energy efficiency. Don't forget to change the filters in the central air and heating system and have the furnace serviced as temperatures drop. You should also put your furnace through its paces before the cold comes by turning it on. At first, there will be a strange, short-lasting smell. Simply aerate the area to remove it. If the odour persists, turn the furnace off and call a furnace professional to come take a look at it.
Remove Potential Hazards
You can protect your home by removing tree limbs or large trees that could fall due to a heavy snow or ice load.
Eliminate Potential Fire Hazards
If you have a wood stove, clean it out completely and close the damper vent. Inspect the chimney for rust, tar build-up and loose strapping where it attaches outside. ­
If you have a fireplace, clean it and inspect the chimney as well. You'll want to remove any obstructions from the chimney like leaves or bird nests. Placing a screen or chimney cap over the top can help you avoid any problems in the future.
You should remove any items that might be considered fire hazards, such as oil rags and stacked
newspapers. To protect your home against fires, ensure you have working smoke detectors and a fire extinguisher.
Reverse Ceiling Fans
Setting your ceiling fans to turn in the opposite direction will push warm air down and help it to circulate. A ceiling fan viewed from below should turn clockwise in the winter.
To schedule an inspection at your home this winter, give Accurate Home Inspections a call today at 403-826-6111!